WE WORK SIDE BY SIDE WITH THE CLIENT TO ACHIEVE THE DREAM OF LIVING ABROAD.
SPECIALISTS IN CERTIFIED TRANSLATIONS AND ADVICE TO OBTAIN STAMP 4 FOR SPOUSES OF EUROPEAN AND IRISH CITIZENSHIP.
CERTIFIED TRANSLATIONS IN ENGLISH, SPANISH, ITALIAN AND PORTUGUESE.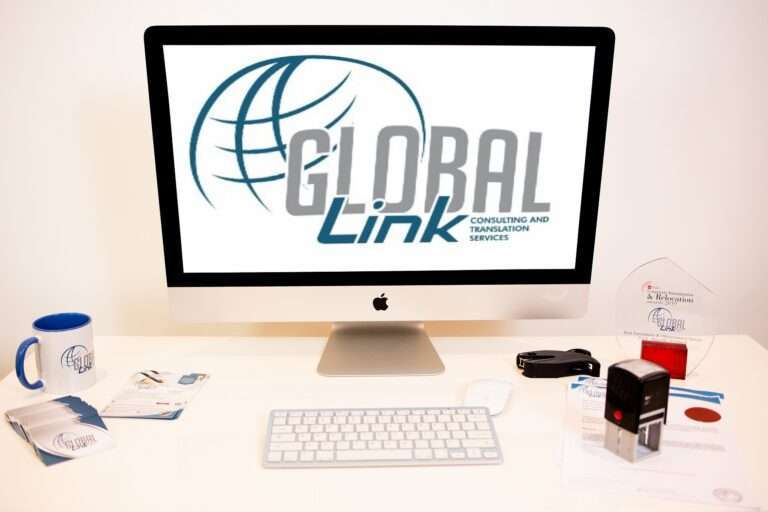 Competence and customer oriented.
We handle your documents so that you remain free to live and pursue your dreams. Understand why to choose Global Link to get your certified translations and to obtain the Stamp 4 visa or Irish Citizenship.
We want our clients to be
happy
safe
satisfied
with Global Link
Video call with one of our Stamp 4 specialists, Permanent Residence and Irish Citizenship to raise the details of your situation and illustrate the scenario of possibilities for obtaining your document.​
Made 100% by humans with Certification accepted in several countries, such as United States, Ireland, United Kingdom, Australia.
Certified Translations in English, Spanish, Italian and Portuguese.
CONSULTANCY FOR STAMP 4, Permanent Residence AND IRISH CITIZENSHIP
Global Link then offers a Complete Assistance, in which you receive a checklist of requirements to know exactly what to do and our team will monitor and guide you at every step, from filling in the forms to receiving your visa or citizenship.​
"Very reliable. They replied immediately, answered all my questions and fulfilled what was agreed. Super recommended!"
Renato F.
22/05/2019
"Vanessa is just incredible. Fast and super professional. Everything was perfect, I recommend it!"
Robson A.
29/05/2019
"So far, 3 documents have been translated and delivered successfully. The order is online, which speeds up the process. Super professional and competent, I recommend!!!"
Natalia D.
11/10/2019
"I highly recommend it!!! My Stamp 4 process was a very specific case. I received attention, seriousness, a lot of professionalism and respect in regards to my ignorance in not knowing where to find the documents needed, help in expressing myself with the institutions and guidance to understand the stages of the process. I also did my translations with her and received them in a timely manner of 2 days (in waterproof covering)! I couldn't even notice that the company is in a different city than the mine. It was money well spent!!! 100% recommendable!"
Ana Manuela
13/11/2020
"When a competent team is put together, the fruits will almost certainly be worth harvesting. But you have exceeded all expectations. Thank you so much Global Link. Congratulations to all of you! I am proud and grateful for the capable and dedicated professionals you are. Competence and commitment are perhaps the best words that describe each of you. Once again congratulations! Good job!"
Izabel Cristina M.
02/03/2020
"I really want to thank you for the service provided! Very happy with the quality of service that was done, you guys are great!"
Keyla C.
25/11/2021
"Thanks for the document. Service well done, cheap and fast. Will recommend!"
Douglas M.
06/01/2022
"The application process for Stamp 4 is bureaucratic and with many documents. With the assistance of Global Link everything was smoother and more accurate. Thank you for all the attention and excellent service. I highly recommend it!!"
Marcela F.
04/02/2022
"I received the Stamp 4 card very quickly at home. I want to thank you for your help and all your availability in answering my questions. Having your experience throughout the process was fundamental. It has been a new beginning, a great learning experience. Thank you very much!"
Irana C.
13/08/2023
"Thank you for all the support and availability that Global Link offered us. Finally the long-awaited visa arrived! I was treated with the utmost kindness in all the doubts I had during the process. You are the best!"
Paloma G.
30/08/2023
GLOBAL LINK PROVIDES FAST SERVICES, BASED ON A KNOW-HOW OF 15 YEARS HELPING PEOPLE TO IMPROVE THEIR LIVES.